Publish Date

Monday, 30 April 2018, 10:09AM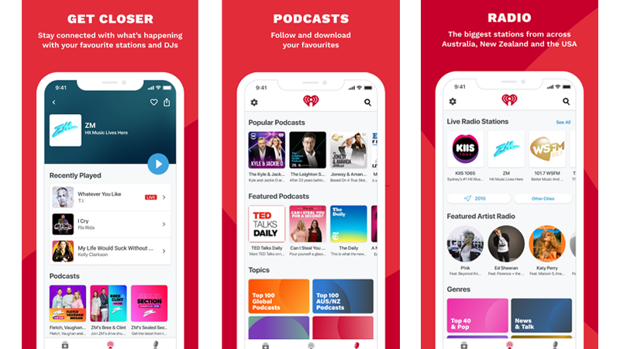 The Best Live, Local & Global Radio Stations 
• Listen to your favourite stations NewstalkZB, ZM, The Hits, Coast, Gold, GoldAM, Radio Hauraki, Flava, Kick and our exclusive digital only stations including The Alternative Commentary Collective, ZM Friday Jams, NZ Top 20, Flava Old School and many more.
• Stream for free thousands of radio stations from across the United States and Australia.
Podcasts
• Stream the most popular podcasts from ZM's Fletch, Vaughan & Hayley, Leighton Smith, Jeremy Wells & Matt Heath, Mike Hosking and many more. NZME is the number one podcast publisher in New Zealand with over 100 home grown podcasts and exciting new podcast content launching every month.
• iHeart brings you the most popular podcasts from around the world, including The Joe Rogan Experience, The Ron Burgundy Podcast and Stuff You Should Know, with more than 300 thousand shows and almost 20 million episodes !
• Follow your favourite podcasts and download episodes to your phone to listen offline, be notified when a new episode is available, even listen at twice the speed if in a rush!
Play Free Artist Stations
• Create personalized music stations based on your favourite artists using our library of millions of songs covering genres like Country, Top 40, Pop, Hip Hop, EDM, Rock, R&B, Alternative and more.
• For free you can skip through up to six songs on each Artist Station, like and dislike to customize to your personal taste.
• As you like and dislike, iHeart will build your own Favourties Radio station tailored to your musical taste. Just jump into Your Library to try it out.
Stream on the web
• At work or home, you can jump into iHeart on the web at below links.
Listen where you are
• Alexa and Google Home smart speakers, Apple Car Play and Android Auto, Sonos speakers, VodafoneTV and coming soon to AppleTV. You can listen to iHeartRadio on all your different platforms with more coming soon.